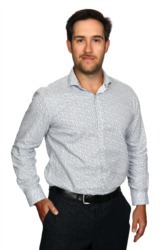 Born and raised in Regina, Ed is genuinely at home here and knows the city inside and out. He's a former Sheldon-Williams Collegiate Spartan and holds a Bachelor's Degree in Psychology from the University of Regina.
Ed also has a passion for taking to the air and all things aviation. He still carries his private pilot license and has a background in flight and air traffic services. This field required Ed to hone his organizational skills, adapt on the fly, and effectively communicate, which are critical attributes you want in your next real estate agent.
He was drawn to our field because of the diverse nature of our work and is looking for a rewarding yet challenging career. Ed is relatively new to the real estate industry, but he is eager to serve you and your family with his experienced team behind him. He will have the time for you and your referrals and will be prepared for every detail about your specific move. In his spare time, Ed loves to play hockey, hang out at his family cabin out at Katepwa, or relax with Blinkin, his adorable rescue dog.
Ed Snell is a licensed REALTOR® practicing in residential, commercial and farm real estate.