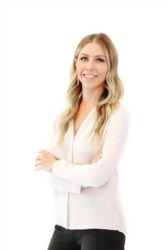 Kailey joined the JC REALTY TEAM in 2009. Her decade of experience as a home buyer expert has transitioned her seamlessly into becoming one of the city's most superior listing agents. She has gained vast experience in negotiating contracts and her knack for skillfully pricing homes puts her sellers at ease with minimal time on the market, procuring them the best price for their property. Kailey's attention to detail enables her to be an incredible listener so you can be rest assured that everyone is on the same page when navigating through your deal.
If you are exploring the options of building your next home, Kailey has an extensive knowledge base of new home construction and what to look for in a builder and can help you with the myriad of decisions that you may not even knew existed. Kailey was raised with a solid work ethic and small town values where she helped her family operate several businesses including an accounting firm, machinery dealership, and a farm near Raymore. She moved to the city to attend Luther College High School and since then, has called Regina her home.
Though she works all over Regina and surrounding area, she loves helping clients buy and sell in the north end where she lives with her husband, Curtis and their daughter. Whether you are that first time home buyer or thinking it's time to climb that property ladder, Kailey has you covered and would be the perfect agent to ensure your best interests are taken care of.