Margarita Parisone
REALTOR®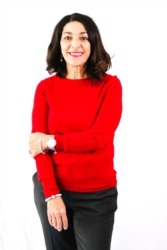 Real estate has been Margarita's passion since 2002 and anyone that's worked with her can attest to her exceptional client care. Customer service has been ingrained in her at a very young age, growing up working in her parent's restaurant right here in the city. Going above and beyond the transaction is a typical norm for Margarita and developing relationships with her clients is what has been driving her all these years.
She handles all types of moves, but absolutely loves working with seniors and often matches these homes with eager first-time home buyers. There's a calming reassurance when you have Margarita looking after your best interests and knowing that you are in experienced hands eases the stresses of making a big transition. Albert Park is where Margarita was raised and was always surrounded by the tightly-knit Greek community in Regina. She's very active as a member of the St. Paul Orthodox Church and serves as the Treasurer for the Ladies of Philoptochos, giving back to the city that she loves. In fact, you may even spot her during Mosaic at the Greek Pavilion helping where she can, incredibly proud of her culture and heritage.
Margarita's two beautiful girls are now all grown up and have teaching careers. She's enjoying the grandparenting-life with her supportive husband, Mike of 30 years.