Community Over Everything | The Top Factor Of What You Buy
Posted by Jessica Dunn on Wednesday, September 27, 2023 at 12:54:08 PM
By Jessica Dunn / September 27, 2023
Comment
We've been at this real estate thing for a long time and often get asked, "What should I be looking for in a home to ensure I'm making the right investment?" There are the obvious things like the condition, price, and square footage. But the conversation needs to go deeper than these variables. A return on investment doesn't just mean dollars and cents. It's also defined as what you get in return for your daily quality of life. The biggest factor you need to strongly consider is THE COMMUNITY over everything. To have a strong quality of life, your community needs to give you opportunities to have meaningful connections, donate your service and talents, be close to nature, and be close to healthy food and care.
Meaningful Connection With Those Near You
Whether a client built that mega mansion or stayed in a humble character home never mattered. But what we've found that truly made a difference in their quality of life is who they surround themselves with. The proximity to your "people" can improve your well-being, mental health, and overall mindset about living with intention. Whether spending time with close family, friends, mentors, or incredible neighbors, when you have daily meaningful connections and heartfelt conversations, that's what mattered, not the type of home they lived in. So when you are searching for a new home, don't underestimate the power of being close to those who matter the most. Consider finding a home where you can surround yourself with the people who light up your heart.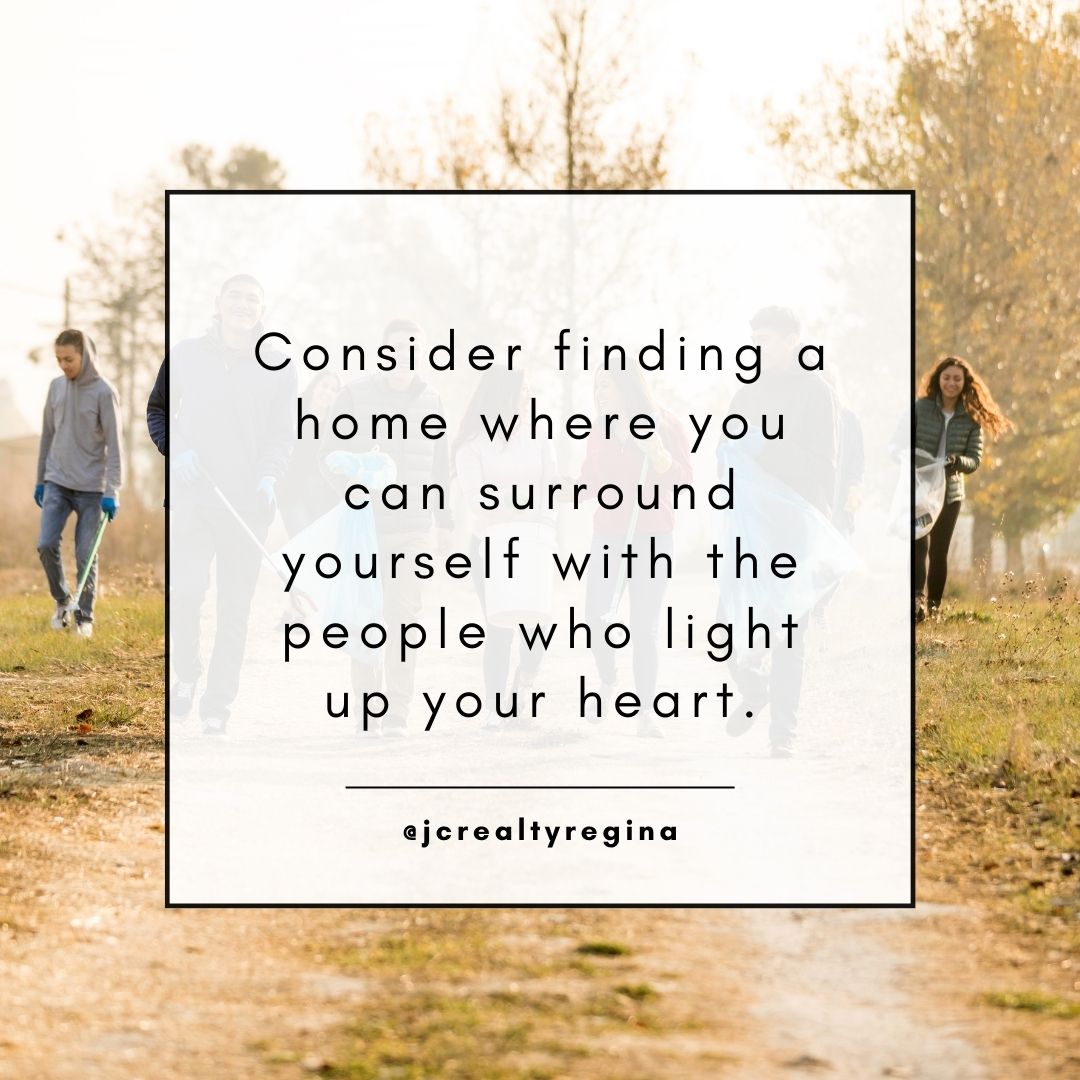 Service Others In Your Community
When looking for a community to be a part of, it's not just a one-sided relationship. Seek out a city, neighbourhood, or town where you can find a way to give back. Remember, you don't have to be an expert, rich, or a certain age to volunteer or offer help. It's your job to improve where you live as well. Getting involved with a cause you are passionate about, supporting someone who needs help, keeping your community clean, or donating your time to a local event will provide meaning, purpose, and a sense of gratitude for what you have. Volunteering has been linked with longevity and a positive outlook on life, which is why giving back to the community where you live is so critically important.
Close To Nature Will Improve Your Quality Of Life
Being close to green space and nature needs to be on your MUST-HAVE LIST when house hunting. Before you check whether the kitchen is on trend or if your vehicle can fit in the garage, check out the proximity to walkways, parks, playgrounds, and yard space. Getting outside and enjoying nature daily helps you ground your nervous system, reduces stress, improves your sleep, and catapults your quality of life. The simple act of tending to a small flower bed, an evening stroll around your park, or being near the water can drastically boost your outlook on life.
The Proximity To Amenities Will Impact Your Health
Being close to the resources you need is also a vital key to your quality of life. Living close to your church, grocery store, school, work, and/or healthcare providers are absolute game-changers. Commuting and wasting precious time in the car can drain your mental capacity and rob you of using your time the way you want. Those near the places they need to access purposeful connection, fresh food, and care tend to be the most healthy.
So if you are out searching for a new place to call home, remember to scope out the neighbourhood and what it offers you and your family. Location will be the most critical part of the hunt; it could be the biggest variable that will make or break your purchase. Do your research, walk around the community, talk with those living in the area, and find the closest parks, schools, stores, and associations you could connect with. So what's the number one thing you should look for in a home? It's finding the right community that best suits your lifestyle. If you pick the right community over everything, you can feel confident investing your time, energy, and money in a home there.