House Love 101: Take Care Of Your Home So Your Home Can Take Care Of You
Posted by Jessica Dunn on Wednesday, October 18, 2023 at 2:23:32 PM
By Jessica Dunn / October 18, 2023
Comment
Do you really want to know what the best thing you can do to uphold your home's value? There's nothing sexy about this answer. It's not mind-bending nor a super secret, but it's the most important and overlooked notion. TAKE CARE OF YOUR HOUSE! That's it! Make it a priority. Make it a regular, constant thing, almost a ritual. Not only will you prolong all the systems in your home, but you will be on track to having a solid return on investment!
Let's take this example: If we evaluate two exact homes with identical layouts on the same street, one has been meticulously kept. At the same time, the other has been neglected, the price of each will be dramatically different. This is what potential buyers and REALTORS® will immediately notice:
a home that looks dirty (we're talking, hasn't had a deep clean) will make it tough for first impressions and allow people to make assumptions that the home isn't well-kept
wear-n-tear and items needing repair could scare away most first-time home buyers, signaling that this home "needs a lot of work"
water damage from not properly caulking drafty windows and doors immediately leads a buyer to wonder how deep the problem actually goes
appliances not working due to not being regularly serviced automatically indicates for a buyer to factor in more costs they weren't prepared to shell out upfront
yard has gone to weeds and disrepair, making it a deterrent rather than a bonus instantly correlates to a lot of sweat equity and back-breaking work
exterior damage like missing shingles, loose gutters, and poor paint job could cause a buyer to not even walk in the door
poor drainage due to the grading around the home not being maintained, causing water penetration to the foundation, creates another major blow to your selling price
high utility bills because the furnace, a/c, and HVAC have not been looked after prices out many people who can't afford the monthly bills
Don't leave yourself in this bind! Taking preventive precautions now will be worth every penny.
Here's an example: If you regularly replace your furnace filter monthly and get your furnace serviced once a year, you could be reducing repair costs by up to 50%, keep up any warranty if applicable, ensure the health and safety of your family, significantly reduce your energy bill, and prolong your furnace for as long as 15-20 years. It's well worth the maintenance. So, for a few dollars on filters and a $150 service fee every year, you not only give yourself some peace of mind, you could be preventing yourself from buying a new $6,500 furnace in the dead of winter!
So, when you are thinking about purchasing a home, don't just think about how much your down payment or monthly payment will be. You need to be able to put away money regularly to maintain your property and uphold its value. You are putting yourself at a disadvantage when you don't. But how do you know how much to save? A home inspection is a great place to start. Ask your inspector what the lifespan of the home's major systems is and what they will roughly cost to replace. You can also get quotes before removing conditions so you can be prepared. He can also show you how to take care and service these as well. Here's a small list to start:
windows
shingles
furnace
siding
flooring
appliances
plumbing
deck
foundation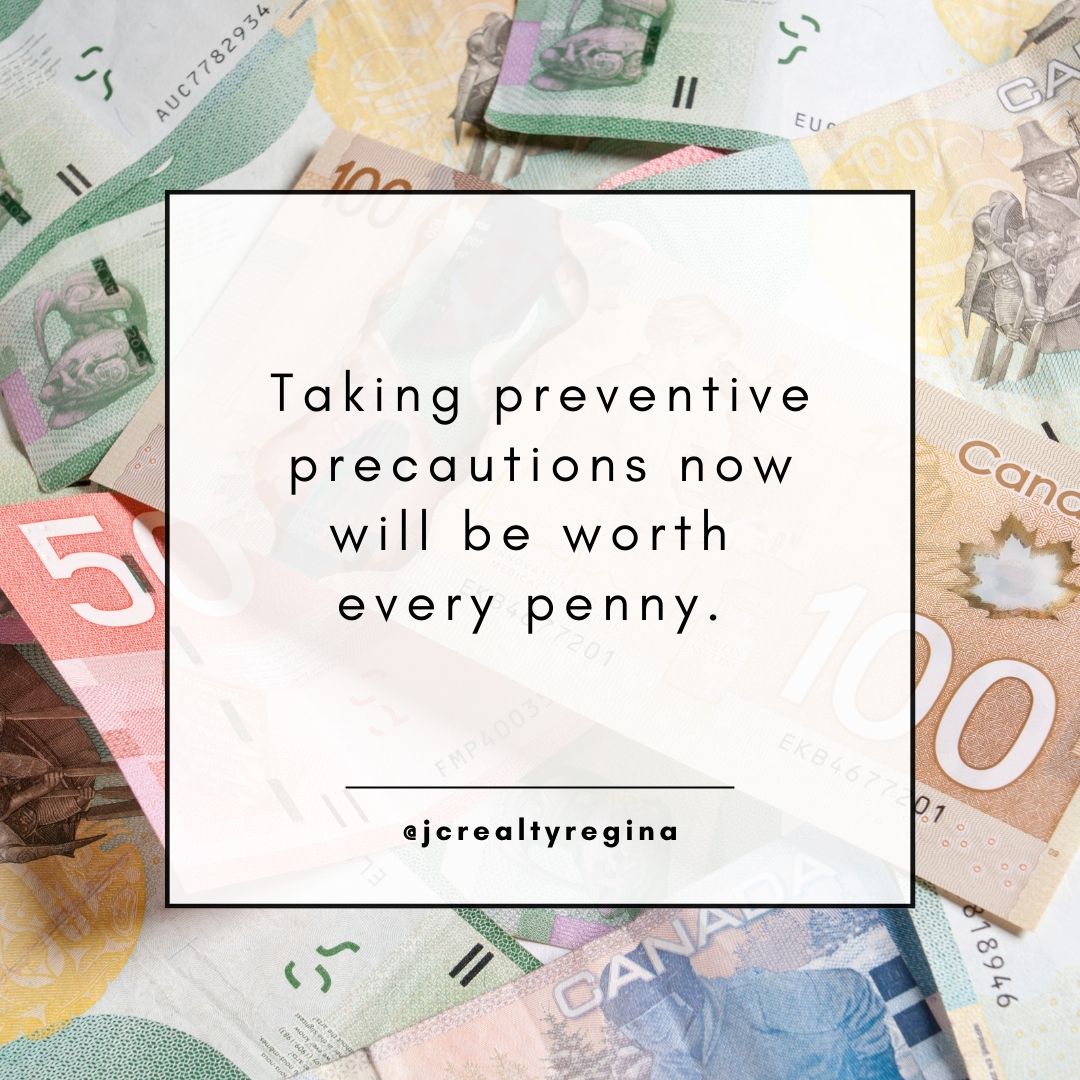 If REALTORS® could choose, most of them would rather take on an older listing that has been meticulously kept vs. a newer home that has been heavily neglected and in disrepair. Why? Because they tend to sell quicker and for more money with fewer complications. As soon as a buyer walks up the steps, they are already subtracting from the asking price all the things that need to be done. The more repairs they add up in their heads, the less likely they will write an offer, let alone for the price the seller wants. We get that keeping up with your home can be an overwhelming task, but it's well worth your time and money.
Routine Service Checks
furnace, a/c, water heater, HVAC, fireplace checked regularly
Regular Cleaning
preserves your entire home and prolongs the need to replace
aside from your floors, windows, walls, cabinets, and bathrooms, also keep in mind to deep clean your appliances, ducts, siding, and window tracks
Protect From the Elements
everything from sealing, staining, painting, caulking, insulating, venting, replacing missing shingles/siding from Saskatchewan's harshest weather of wind, snow, rain, and sun
So, for those who are taking their Saturdays washing the walls, sealing the driveway, or servicing their furnace, we see you and salute you! It may not feel like it's helping but know that these necessary adulting tasks are crucial to maintaining the value of your home. If you need referrals or recommendations of reputable tradespeople, connect with us! We're happy to help you with your To-Do List!