How To Leap Over Your Home Ownership Hurdles
Posted by Jessica Dunn on Wednesday, October 25, 2023 at 3:14:28 PM
By Jessica Dunn / October 25, 2023
Comment
Homeownership can be incredibly difficult to achieve. You may have lost all hope of ever purchasing your own home. Saving for a down payment seems impossible, interest rates keep increasing, or your credit history has been pretty bruised. As Regina REALTORS®, we understand the hurdles of getting into your dream home and are here to help. Look at a few obstacles that might be standing in your way and a few suggestions for overcoming them.
Down Payment Dilemma
The biggest question: "How will I come up with a down payment?" A typical down payment for an entry-level home is 5%. So let's say the new place you've had your eye on is $250,000 = $12,500 down payment. That could seem like a large mountain to climb when you can barely scrape together any savings at all. You have to come up with a plan.
Though the most time-consuming, saving the old-fashioned way comes with the least risk. Breaking down your $12,500 down payment into three years of savings would mean you must put away $347.25/month. If that's still unmanageable, maybe spreading it over a 5-year plan, picking up extra income, or looking into other ways to curb your expenses will need to be addressed. Different ways that could lead you to your down payment that you may want to consider:
getting it gifted by a family member
applying for a line of credit
or withdrawing it from your RRSP (also known as the Home Buyer's Plan)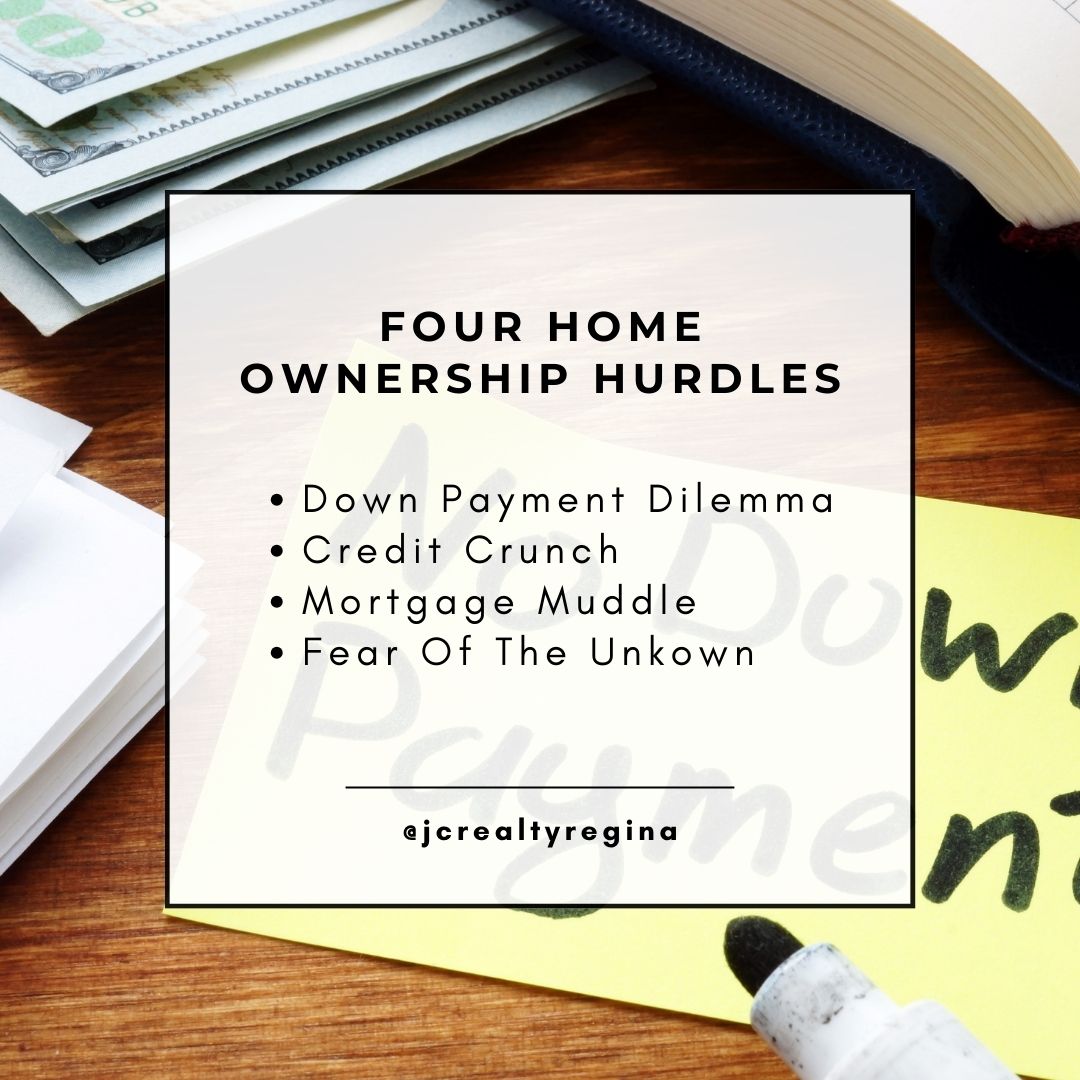 Credit Crunch
Others may struggle with their debt ratios, given their rocky credit history. Though this can't be fixed overnight, here are some ways to begin repairing your credit score:
pay bills on time and in full
proper utilization (keep small balances, and try to use only 50% of your credit amount)
determine the root cause as to why you are struggling with payments
rethink how you are using your credit card (i.e., only use it if you can pay it off, not a "spend now, pay later" mentality)
"A GOOD CREDIT SCORE IN CANADA IS BETWEEN 660-724."
Mortgage Muddle
Finding the right mortgage comes with locating the right lender that will arm you with knowledge and help you make the right financial decision for your situation. Knowing what you are getting into will be your superpower and give you the confidence and control you need to make the right choices. Make sure you know all the in's and out's of your mortgage like:
What happens if you get out of your term early?
Can you pay off your mortgage quicker?
What happens if I need to skip a payment?
What is the difference between a fixed or variable mortgage, and which is the best for me?
The Fear Of The Unknown
One of the biggest hurdles preventing someone from buying a home is the uncertainty of the economy, the stability of their job, and whether they can handle the costs of keeping a home after purchasing it. These are all valid concerns and fears. The only thing that can help with this hurdle is having a solid plan, being prepared for emergencies, and shielding yourself with knowledge, surrounding yourself with experts who can help you figure out your thresholds. Homeownership is not for everyone, and your risk tolerance is a major factor in whether you can weather the storm. It is a risk, but it often pays off significantly when you sell.
If you need more specific help on how to start creating a home ownership plan, connect with us, and we would be happy to set you up with a mortgage lender who specializes in mortgage education right here in Regina.